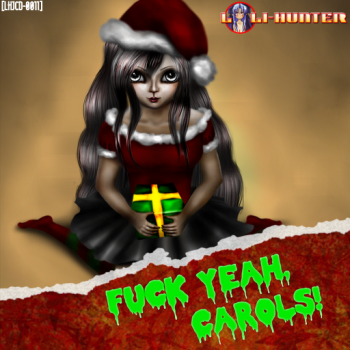 Genre
Hardcore, Happy Hardcore
Quality
CBR 320 kbps / 44100 Hz / Stereo
Loli-Hunter Music want to announce new album.
In order to make you Christmas better and more hardcore, we have for you Xmas release!
This time SiMiK (aka Hinnyuu) was project coordinator so credit goes to him.
We put here only one track and We release it. I hate Xmas anyway- Ok, some details:
Thanks everyone for participating on this kind off hastily made V/A and also NImFpa for the cover art.
Hope to see you on other projects and Meri Kurisumasu to everynyan!
Some songs contains samples taken from different commercial songs. Loli-Hunter Music don't take
any reponsibility for these songs. Please contact appropriate musicians. If some songs abuse your work,
please contact label owner. Songs which abuse your copyright will be removed form albums immediately.
Tracklist:
01. Youkai - sitting at the dinner table with my love at christmas
02. Bloody Vomit Bukkake - Softcore Christmas Party
03. Kreton - Deck the Hall (Happy Hardcore Fuck Xmas Remix)
04. Dj Lava - Jingle Bells
05. Akamushi - SISSY STUFF
06. Foxxy Dekay - Lolita Acid Doll Girl
07. Loli Waffen SS - There Are No Holidays In War (Part I)
08. Loli Waffen SS - There Are No Holidays In War (Part II)
09. Hinnyuu - It's Christmas, You Dog!
10. "iluvOP - Exciting times
11. "iluvOP - Fuck X-mas music.
12. SD-501 - Jingle Bells (4 Fuckin' X-Mas)
13. Reizoko Cj - Fanteucpx[zv
14. "iluvOP - loli-pop presento
15. Blizzenblight - 64528
16. Foxxy Dekay - Super Happy Otaku Pancake Party
17. Blizzenblight - Corrupted mushrooms
18. "iluvOP - I WANT MY PRESENTS YOU FUCKING SANTA BASTARD!
19. Casketkrusher - Heavy Hardcore Christmas
20. Blizzenblight - Overdose
21. Youkai - Another New Year To Fail Miserably
22. "iluvOP - Yeahhh